Sunday, July 30, 2006
Tabletop
Friday, July 21, 2006
Pumpkin Tiramisu
Pumpkin Tiramisu
(Double recipe to use in large trifle bowl.)

1 pkg. authentic Italian ladyfingers (they're hard, not soft)
8 oz. Mascarpone cheese
1/2 c. pumpkin puree
1 tsp. cinnamon
1/2 to 1 tsp. freshly ground nutmeg (to taste)
1 1/2 c. powdered sugar (or to taste)
1 tsp. pure vanilla extract or orange extract
2 1/2 c. heavy cream, whipped and chilled
1/8 c. either Frangelico liqueur, rum or orange juice
Crystallized ginger

Arrange ladyfingers on the bottom of a 9" square pan. Pour liqueur over ladyfingers. Mix Mascarpone with the pumpkin, spices, sugar and extract. Fold in 1 1/2 c. of the whipped cream. Pour mixture over lady fingers. ( If using large trifle bowl, you can layer the ladyfingers and cream mixture: just make sure you sprinkle lady fingers with liquid--juice or liqueur--before covering with cream mixture). Gently spread remaining whipped cream on top of mixture. Sprinkle decoratively with additional cinnamon and crystallized ginger. Cover and chill at least two hours, or overnight.

Serves eight generously.
Friday, July 14, 2006
Formal Place setting
Setting a Formal Place setting...
from
rockysgoldandsilver.com/faqs/
How do I properly set a formal dinner setting?
Plate:

| | |
| --- | --- |
| • | Place your dinner plate on the table in front of the chair. |

Above the Plate:

| | |
| --- | --- |
| • | The cake fork will be closest to the plate with the tines facing right. |
| • | The dessert spoon will be above the cake fork with the bowl facing left. |

Right Side of Plate:

| | |
| --- | --- |
| • | To the right of the plate place your entree knife with the blade facing in toward the plate. |
| • | To the right of the knife place your teaspoon. |
| • | To the right of the teaspoon, place your soupspoon. (Either a round bowl, cream soup or the more versatile oval/place soup.) |

Left Side of Plate:

| | |
| --- | --- |
| • | To the left of your plate, place the entree fork and then the salad fork. |
| • | If you are using a bread plate you may place it either to the left of the forks or slightly above them. |
| • | Place your bread and butter knife on the bread plate with the blade facing toward the dinner plate. |
| • | Glasses go above the knives with the water glasses closest to the plate. |
| • | Wine glasses will go to the right of your water glass. |
| • | Napkin may be placed across the plate, or to the left of the forks. |
Friday, July 07, 2006
Not like these invitations
Another what not to do


http://www.foxisland.net/ncc_weddings.htm



Thursday, July 06, 2006
Fund raiser
http://www.guidestar.org/news/features/online_auctions.jsp


On-line Auctions Raise Funds for Charity
Pumpkins
http://www.mass.gov/agr/massgrown/pumpkin_pyo.htm
Massachusetts

Pick-Your-Own Pumpkins

NOTE: information on this list is subject to change without notice to the Department. It's always a good idea to call the farm ahead of time to check on crop availability and picking conditions. Try printing this page in landscape orientation for better fit.

Farm Name
Address
Phone
Directions
Hours of Operation
Comments
Andrews Farm
394 Old Meetinghouse Road
E. Falmouth
(508) 548-4717
From Boston, Rt. 128S, right onto Route 151 to Sandwich Road, left onto Carriage Shop Rd. Bear right at fork, farm on right.
Open 7 days, 10-4pm.
Hayrides, groups.
Coonamessett Farm
277 Hatchville Rd
E. Falmouth
(508) 563-2560
www.Coonamessettfarm.com
Rt. 28 south towards Falmouth; exit onto Rt. 151 east, turn south on Sandwich Rd. Proceed to Hatchville Rd and turn right, farm is 1 mile on right.
9-5pm, May through September. PYO Salad mix available year round. (Hydroponic Greenhouse)
Membership required in PYO club, $15 annual family membership fee. Café featuring Coonamessett Farm grown produce. Canoe rentals for pond at Coonamessett Farm.
Hilltop Orchard / Furnace Brook Winery
Route 295 - Canaan Road
Richmond
(800) 833-6274
www.Hilltoporchards.com
Mass Pike to Exit 1, to Route 41 North to Route 295 West, farm 3/4 mile on the right.
Open Wed to Sunday, 9am to 5pm Labor Day until Columbus Day for PYO. Stand open 9-5pm.
Containers provided, children welcome, picnicing and free hayrides on weekends. View cider mill and offer hard cider. Year round stand and bakery. New: Furnace Brook winery tours & tastings.
Howden Farm
303 Rannopo Rd
Sheffield
(413) 229-8481
www.Howdenfarm.com
3 miles south of center of Sheffield. At fork of Rt. 7 & 7A(1.7 miles) take 7A, then first right onto Rannapo Rd. We are first place on the left.


Pumpkins last weekend and holidays in Sept. thru all of Oct. 10-5pm.
Ioka Valley Farm
3475 Route 43
Hancock
(413) 738-5915
8 miles west from the intersections of Route 7 & 43. 4 miles east from the intersection of NY Route 22 & 43.
Open weekends only. Mid September thru October for Pumpkins. 10am-5:30pm. Everyday during Strawberry season. 8-noon, 4:30-7:30pm weekdays, weekends, 8-4:30pm.
Free hayrides provided to PYO pumpkin patch or Christmas tree plantation. Pure maple syrup year round. Visit farmstand and petting area.
Lowland Farm
129 New Marlboro Rd
Monterey
(413) 528-0728
Monterey, Rt. 23, 1 mile on New Marlboro Rd.
Open 7 days when in season.
-
Mountain View Farm
Old Cheshire Rd
Lanesboro
(413) 445-7642
From Allendale shopping center to Crane Ave., pass Jody Seasonal, right onto Oak Hill, which becomes Partridge Rd. Turn left at end of Partridge Rd and then turn right on Old Cheshire Rd. Farm is next right.
Monday - Friday from 8am to 8pm for strawberries. Sat. and Sun., 8-5pm.In season, 12-5pm for tomatoes.
May bring your own containers.
Taft Farms
Route 183 & Division Street
Great Barrington
(413) 528-1515
http:\\www.bcn.net\~taftfarm
Take Route 7 South from Stockbridge and follow signs to Rt. 183. 3/4 mile from Rt. 7 on Rt. 183.
Call ahead for conditions and hours.
Containers available or bring your own. Strawberries grown without pesticides.
Araujo Farms & Greenhouses
1460 Williams St.
Dighton
(508) 669-6988
Call for directions and hours.


Offer horse drawn hayrides & picnic area.
Cedar Hills Farm
Rt. 118
Rehoboth
(508) 252-6577
Route 44 to Route 118 South, farm is 1/10 mile on the left.
Call for hours.
Horse drawn hayrides.
Four Town Farm
90 George Street
Seekonk
(508) 336-5587
From 195, take exit 1 and follow Rt. 6 east to Cumberland Farms, turn right onto Warren Ave. for 1/2 mile then bear right at fork onto George St.
9-5pm depending on availability.
Children must be supervised.
Oakdale Farm
59 Wheaton Ave
Rehoboth
(508) 336-7681
Route 44 to Lincoln Street, left onto Country, take 2nd right to Barney Ave. to 59 Wheaton Ave. Or Rt. 6 to Barney Ave- Left to Almeida Rd. to the end. Right onto Wheaton Rd.
Call for picking times and conditions. Open May-October.


Cider Hill Farm
45 Fern Ave.
Amesbury
(978) 388-5525
www.Ciderhill.com
Interstate 95 to Exit 1 in New Hampshire. Go West 2 miles Route 107 to Route 150. South 2 miles on Route 150, turn left onto Fern Ave. to barn and farm store. Or, Rt. 495 to exit 54. Turn right at bottom onto Rt.150. Go North through Amesbury. Turn right
June: 8-6pm, July - Oct: 9-6pm, 7 days/week.
Containers provided, children welcome if supervised. Offer children's play area, farm animals, a picnic area, and hayrides in the fall.
Clark Farm
163 Hobart Street
Danvers
(978) 774-0550
Take Centre Street Exit off Route 1 North. Turn left. 1/2 mile at blinking lights, Turn left onto Hobart Street. Farm 1/4 mile on left.
Stand open daily from 9am to 6pm. Open for PYO: 9am to 5pm.
Containers provided for a fee, children welcome.
Connors Farm
30 Valley Road (Rt. 35)
Danvers
(978) 777-1245
www.Connorsfarm.com
From downtown Danvers, Route 35 North to farm. Or from Route 1 North, take North Street exit, then turn left at only intersection. Also Rt. 128 to exit 23N. This is Rt. 35, we are 5 miles from this Jct.
Open 7 days a week from 9am to 6pm.
Containers are provided, children welcome. Picnic area and barnyard animals.Tour buses welcome!
Green Meadow Farms
650 Asbury Street
South Hamilton
(978) 468-2277
www.Gmfarm.com
Exit 20A off Route 128 to 1A North, go through North Beverly into Wenham, 1.5 miles past Wenham Lake take left after large white Church on left onto Arbor Street, go 2 miles to Asbury Street on left. Farm is 1.5 miles on left.
Daily 9-6pm.


Homestead Farm & Orchard
13 Birchmeadow Road
Merrimac
(978) 346-8346
Rt.495 to exit 53. Left onto Rt.110, Birchmeadow Rd will be 1 mile on the right.
Strawberries 8am-6pm. In season, apples & pumpkins on weekends only. Free hayrides to apple orchard.
Containers supplied.
Ingaldsby Farm
14 Washington Street
Boxford
(978) 352-2813
1 mile off Route 133 in West Boxford.
Stand open 8am to 6:30 pm daily. In season, apple picking on weekends after Labor Day 10am to 6pm.
Containers provided, or bring your own. Children welcome with adults. Bakery included.
Long Hill Orchards
520 Main Street, Rt. 113
West Newbury
(978) 363-2170
Exit 57 off Route 95. Left off exit, farm is 4 miles on right.
Seven days a week from 9-6pm. Including holidays.
Greenhouse, ice cream, and petting farm. Containers available if needed. Beautiful views of the Merrimack River. Bring a picnic, enjoy the beauty. Horse drawn hay rides.
Marini Farm
259 Linebrook Road
Ipswich
(978) 356-0430
U.S. Route 1 to Linebrook Road, East toward Ipswich 1 mile, or Route 1A past center of Ipswich to Linebrook Road.
Open 9am to 6pm daily. In season, open for PYO tomatoes 9am to 6pm.


Smolak Farms
315 South Bradford Street
N. Andover
(978) 682-6332
www.Smolakfarms.com
Route 95 to Route 97 Georgetown Exit. Left at Boxford Village sign to first right, Ipswich Road. Go 6 miles and look for signs.
Stand open daily, 7am to 6pm. For all PYO, daily 9-5pm.
Farm animals, hayrides in season, festivals, senior and educational programs, and host birthday parties, kids craft summer camp, farmstore bakery, functions.
Appleberry Farm
Barry Street
Agawam
(860) 668-7252
2 miles South on Route 187 from Feeding Hills Center, take right onto Barry St. Farm is on Barry Street @ Risings Corner.
Starts mid-August, through mid-October on weekends.


Fini's Plant Farm
217 James Street
Feeding Hills
(413) 786-1012
Feeding Hills section of Agawam off North St.
Sat. and Sun. from 9-5 in Oct. Weekdays by appt. only. Offer hay rides and childrens' events.
Group rates for weekday field trips.
Kosinski Farm
336 Russellville Rd
Westfield
(413) 572-4344
Rt. 10 & 202 north from Westfield center. 5 miles left onto North Rd.
Sept. and Oct., open 7 days, 7am to noon, except closed on Friday.


Provin Mt Farm
443 North West Street
Feeding Hills
(413) 786-0495
Exit 3 off I-91 in Springfield, take Rt. 57 west. 1 mile beyond Feeding Hills Center, turn right at light onto N. West St.
Call for hours.


Pumpkin Valley Farm
384 College Highway
Southwick
(413) 569-6915
From Springfield take Rt. 57 west. At intersection of Rts. 10, 202 and 57, take 10 & 202 south. Farm is 1.5 miles on left.
Open 9am to dusk daily, free hayrides on weekends and holidays.


Robert's Hillside Orchard
275 South Lane
Granville
(413) 357-6690
Call for directions and hours.




Westview Farms
111 East Hill Rd.
Monson
(413) 267-5355
Between Rts. 32 & 20. Exit 8 from Mass. Pike. East Hill Rd. is off Monson Rd. off Rt. 20. From Rt. 32 at Wing Med. Ctr. to Brimfield Rd. to East Hill Rd.
April 1 thru Oct 30, Winter by reservation. Buses welcome.
Dairy farm, 30 flavors of ice cream, goats, lambs, rabbits. Field trips for schools, day care & scouts, birthday parties: include horse drawn hay & sleigh rides, feeding the animals. Country fresh family fun.
Fletcher Farm
22 Gunn Rd
Southampton
(413) 527-6888


Call for hours and conditions. Welcome school groups.


McCray's Farm
55 Alvord Street
South Hadley
(413) 533-3714
www.Mccraysfarm.com
1st left off Route 47 from center of South Hadley. Farm is 2 miles on right.
Open daily, call for times and picking conditions.
Hayrides to the pumpkin patch. Homemade ice cream, cornstalks, hay bales.
Applefield Farm
Route 117
Stow
(978) 897-2699
3 miles west of Stow Center, farm is on Route 117.
Open Monday through Sunday, 10am to 6pm. Open for PYO vegetables 9am to 5pm.
Containers are provided, PYO vegetables include: beans, eggplants, peas, hot peppers, summer squash, kale & tomatoes.
Brox Farm
1276 Broadway Rd.
Dracut
(978) 454-3434
Rt. 93 to exit 46 to Rt. 113 west, 2.5 miles on right.
Call for picking conditions and hours.
Many other fruits & vegetables picked daily for farmstand.
Butter Brook Farm
982 Main St.
Acton
(978) 263-1936
www.Butterbrookfarm.com
From Boston Rt. 2 West to Rt. 27 North (Main St.) # 982. From 485 to Rt. 2 East to Rt. 27 North (Main St.) #982.
Call ahead for hours and conditions. Saturdays 10am-4pm.
Organic products. Also offer herbs and local honey.
Carver Hill Orchards
Brookside Avenue - Box 101
Stow
(978) 897-6117
Rts. 117 & 62 to Stow Center, left at lights, 1/2 mile to Brookside on left. Watch for signs.
Open daily, 10am to 5pm. Open August until Christmas.
Groups by appt., picnic tables provided. Wagon rides on weekends and can be scheduled for weekday groups.
Codman Community Farms
58 Codman Rd
Lincoln
(781) 259-0456
1/4 mile off Rt. 126 on Codman Rd.
8am-8pm daily, June thru Oct.
Eggs, pork, beef and lamb for sale. Minor breeds of cows, sheep, chickens and pigs. Open for farm tours year round.
D.J. Hussey Farm
20 Burgess Road
Townsend
(978) 597-6891
Rt. 119 to Townsend center- north on Rt. 113 for 1/2 mile then left on Dudley Rd for 1.5 miles and look for signs.
Call for hours and picking conditions.


Dowse Orchard
98 North Main Street
Sherborn
(508) 653-2639
www.Dowseorchards.com
From North/West: Mass Pike to exit 13, take Rt. 30 East to Rt. 27 South, follow through Natick center 2.5 miles into Sherborn on left. From East: Rt. 9 West into Natick and take Rt. 27 South into Sherborn.
Call for hours and conditions. Apples September and October. Weekends only.
"America's best crunchin Apples since 1778.
Drew Farms
31 Tadmuck Road
Westford
(978) 392-3449
www.Drewfarms.com
Route 495 to Exit 32, take right off exit to farm.
Open daily 10am to 4pm.
Children welcome, containers available. Trailer rides on weekends.
Hanson's Farm
20 Nixon Road
Framingham
(508) 877-3058
From 495 take route 20 East to Wayside Inn, at Wayside Inn Country Store turn right onto Hager Street, farm 2 miles on right. Or from Route 9 to Edgell Road, 1 mile to lights, left onto Edmunds Road, 2 miles to Nixon Road.
Open Monday through Saturday, 9am to 6pm. Sundays, 9am to 5:30 pm.


Hillbrook Orchards
141 Old Ayer Road
Groton
(978) 448-3248
www.Hillbrookorchards.com
Route 2 West to Rt. 495 N, exit 31, west on Rt. 119 for 6-7 miles. After Mobil Station turn left onto Old Ayer Road, 1/2 mile to orchard.
Call for hours and conditions.
Also have pony rides, and farm animal petting zoo on weekends from 10am to 5pm.
Kimball Fruit Farm
184 Hollis Street
Pepperell
(978) 433-9751
Exit 5 West off Route 3, North to Route 111 into Pepperell, take right at yellow blinking light, farm is 3 miles on left.
Daily 9am to 6pm.
Containers provided.
Lawndale Farm
91 Frost Rd
Tyngsboro
(978) 649-7629
From center of Tyngsboro (at bridge), take Rt. 3A north towards Hudson, N.H.. We are 1 mile from bridge, 1st farm on road.
Daily from 10am-7pm


Marino Lookout Farm
89 Pleasant Street
South Natick
(508) 651-1539
www.Lookoutfarm.com
1 mile from Route 16, South Natick Square.
Call ahead for hours. In season, every day, 10-5pm.
Children are welcome with parental supervision. Farm animals on display.
McLoon Farms
Corner of Route 113 & Thorndike
Dunstable
(978) 649-3656
From Route 3 take Exit 35. Rte. 113 West towards Pepperell, 1/4 mile on right, look for large old barn.
Open weekdays from 10am until dusk.
Fresh organic produce and crafts also. Breads and pies.
Parlee Farms
Farwell Road
Tyngsboro
(978) 649-3854
www.Parleefarm.com
Route 3 to Exit 34, Westford Rd, Tyngsboro. Go .75 miles East to Route 3A, take left at light, then 2nd right onto Farwell Rd. Farm is 1 mile down on right.
For blueberries, raspberries, apples, flower, and pumpkins, call ahead for hours and conditions. Strawberry picking daily from 7am-6pm.
Mary's Country Kitchen offers fresh fruit desserts and ice cream. Annie's Animal Barn offers animals to feed and pet.
Patenaude Farm
158 River Street
Dunstable
(978) 649-7116
Rt. 113 to East Street in Pepperell Mass. Then follow the PYO Pumpkin signs.
Everyday from Sept. 10th to Oct. 30th. 10am - 6pm.


Pickard Farm
160 Great Rd
Littleton
(978) 486-4141
Exit 31 off 495, 1.25 miles east on 2A.
-
-
Shelburne Farm
106 West Acton Road
Stow
(978) 897-9287
Route 2 West to Rt. 111. Left at second light. Next block, bear right onto Willow St. Farm is 2.5 miles on right.
Starts late August, Daily 9-6pm.
Farm store open until Christmas.
Spence Farm
30 Wyman Street
Woburn
(781) 933-4847
Route 128 to Exit 35, take Route 38 South to 2nd set of lights, right onto Wyman Street, farm is .5 miles on right.
Open for picking daily 9am to 4pm.
Call ahead for picking conditions, supervised children welcome.
Spence Hill Farm
39 Coolidge Street
Sherborn
(508) 653-8939
Call for directions.
Call for hours and conditions.


Sunshine Farm
135 Kendall Ave
Framingham
(508) 655-5022
Off Speen Street, Natick, 3 miles South. Exit 13 off Mass Pike, 2.5 miles South of Route 9, Natick. Take Speen Street to end, right onto Kendall Ave.
Raspberries on weekends in September, 10am to 4pm. Call ahead for information in June for strawberries. Call ahead for pumpkins.
Containers provided, children under 10 must be accompanied by adults. Shortcake and ice cream available at our Dairy Bar. Fall raspberries only.
Verrill Farm
11 Wheeler Road
Concord
(978) 369-4494
www.Verrillfarm.com
Located between Rt. 117 and Rt. 2 on Sudbury Rd, or take Rt. 2W to intersection after 126, left onto Sudbury Rd.
Call for hours and conditions.
Containers available or bring your own. Mass. Specialty foods, bakery, and kitchen which offers soups, entrees, pies. Restrooms, handicapped accessible, tented area for picnics.
Fairmount Fruit Farm
887 Lincoln St.
Franklin
(508) 533-8737
Rt. 109 to Village St. (Medway) Take Sandford St. over Charles River which becomes Lincoln St. Or, Rt.140 to Main St Franklin, which turns into Lincoln St. 3-4 miles on right.
Apples start 2nd weekend in Sept. Hours: 10-4:30pm


Jane & Paul's Farm
33 Fruit St.
Norfolk
(508) 528-0812
Route 115 to Cleveland St., turn left onto Fruit St.
Open June to Nov., call ahead for hours and availability.


Lakeview Farms
Rt. 126, 1048 S. Main St.
Bellingham
(508) 883-3800
Rt. 495 to Rt. 140 North to Rt. 126 (Franklin/Bellingham).


Hayrides, farm animals including Obi the llama.
Tangerini's Spring Street Farm
139 Spring Street
Millis
(508) 376-5024
Spring St. is off Rt. 109. Follow 3/4 mile, driveway on right.
9-4pm end of Sept. to end of Oct. Sat. and Sun. for pumpkins. Strawberries, early June.
Childrens birthday parties, and field trips available April til mid-Nov.
Ward's Berry Farm
614 South Main Street
Sharon
(781) 784-3600
Take Exit 8 off Route 95 South and go .5 miles East towards Sharon. Or from Cobb Corner, go about 5 miles West, straight through Sharon center.
Fields open every day except Wed., 9am-6pm.
Free hayrides to the strawberry patch.
C.N Smith Farm
325 South Street
E. Bridgewater
(508) 378-2270

Off Route 106 East, turn right before Old Colony YMCA onto South Street. From Rt. 24 take Rt. 106 East. From Rt. 3 take Rt. 106 West toward E.Bridgewater, turn onto South St. At YMCA, go to end. You are there!
Open daily from 9am to 4pm. Call for conditions and information.
Pumpkin picking on weekends.
Arrowhead Acres
92 Aldrich Street (Route 98)
Uxbridge
(508) 278-5017
www.Arrowheadacres.com
Rt. 146 south from Worcester area to Chockalog Rd exit in Uxbridge. Follow Rt. 146A south 1/2 mile to Rt. 98 on right. Farm on Rt. 98 1/4 mile on left.
Open for pumpkins weekends, Noon to 5pm. Open for Christmas Trees.
Also offers hayrides, petting farm, picnic area, function facilities.
B & B Farms
Box 105 or Route 67
New Braintree
(978) 365-4027
On Route 67, at corner of Old Turnpike Road. Second location: 20 Greenland Rd., Sterling, MA. Off Rt. 12.
Open all day and on weekends for strawberries, blueberries, and pumpkins. We have pesticide free produce in season.
Families and groups welcome.
Bolton Spring Farm
149 Main Street - Route 117
Bolton
(978) 779-2898
2 miles East of Exit 27 off Route 495 on Route 117 near the Stow/Bolton line.
Open daily 9am to 6pm, starts Labor Day for apples, 3 weeks later for pumpkins.
Containers provided, children welcome, groups by appointment on weekdays. Picnic tables provided, country farmstand with homemade hot dumplings, pies, and donuts.
Breezy Gardens
1872 West Main Street
Leicester
(508) 892-9201
Mass Pike to Route 20 East, to Route 49 North, to Route 9 East. Farm is 5 miles on left. Farm is located on Rt. 9, at the Leicester/Spencer line.
Open daily, 10am to 6pm.
Farmstand open daily, farm animals. Hay rides September and October.
Carlson Orchards
115 Oak Hill Road, Box 359
Harvard
(978) 456-3916
www.Carlsonorchards.com
Route 2 West to the Ayer/Groton Exit 38B onto Rt. 110N, 1/4 mile take ist right-Poor Farm Rd, follow signs, 2.5 miles. From Rt. 495 take exit 28 to Rt. 111 towards Harvard. 1/4 mile, follow signs.
Apple PYO hours are 10am-5pm, 7 days a week. Peach and Nectarines: Call, Mid-July on, 10-5pm.
We supply containers. Cider mill.
Charlton Orchards
44 Old Worcester Road
(RT. 20)
Charlton
(508) 248-7820
www.Charltonorchard.com
Rt. 20 West 6 miles from Rt. 395 and Rt. 290, look for signs. Rt. 20 East, 4 miles from Mass. Pike, Sturbridge exit and Route 84. Follow signs.
PYO berries starts June.
Offer picnic tables, wagon rides during apple season. Peach Festival in August. Harvest Festival in October and Christmas at Charlton Orchards first week in December. Strawberry Festival in June, Blueberry Festival in July.
Clearview Farm
4 Kendall Hill Road
Sterling
(978) 422-6442
Take Route 12, Route 62, or Route 190 to Sterling Center, go 1/2 mile up Maple Street, take right onto Kendall Hill Rd, farm 1st on left.
Open 10am to 6pm weekends w/hayrides. 11-5pm weekdays.
Groups by appointment.
Douglas Orchard
36 Locust Street
E. Douglas
(508) 476-2198
Follow signs from the corner of Main Street and Depot Street, 3 miles to farm.
Open daily 10am to 5pm.
Children are welcome with adult supervision, containers provided.
Fay Mountain Farm
12 Cemetery Road
Charlton
508-248-6916
faymountainfarm.com
visit website or call for more info.




George Hill Orchards
582 George Hill Road
S. Lancaster
(978) 365-4331
YourFavoriteFarm.com
Rt. 2 to the Lunenburg/Lancaster exit 35, take Rt. 70 South 3.5 miles, right onto Rt. 117 west, 3/10 mile turn left onto Langen Road, 1.7 miles turn right onto George Hill Road.
Open Monday through Sunday, 9am to 6:00 pm, closed Saturdays.
School groups by appointment on weekdays. Apple Tree Theater, wagon rides, refreshments, pony rides, animals and cider press viewing on Sundays and holidays only.
Great Oak Farm
227 Highland St.
Berlin
(978) 838-2097
Exit 26 off Rt. 495, head west on Rt. 62 for 1.5 miles to center. Take right onto Carter St. to Highland St.. Farm is 1.7 miles from Rt. 62.
Mid June to Oct. Open Tuesday-Saturday: 8am-noon and 3-7pm. Sundays, 10am-6pm.


Harvey's Farm & Country Store
120 South Street (Route 135)
Westboro
(508) 366-1545
www.Harveysfarm.com
One half mile East on Route 135 towards Hopkinton from the rotary in downtown Westboro.
10-5pm daily.
Visit our barnyard critters.
Hyland Orchard & Brewery
199 Arnold Road
Sturbridge
(508) 347-7500
www.Hylandbrew.com
Off Rt. 20, just west of Old Sturbridge Village, take Arnold Rd. and follow 2 miles.
Sept. 2 - Oct. 29, Sat & Sun, 9am-Dusk.
Offer tours of micro-brewery, farm bakery and ice cream. Animal attraction. Free admission.
Keown Orchards
9 McClellan Road
Sutton
(508) 865-6706
www.Keownorchards.com
From Providence: Rt. 146 N to Central Turnpike exit. Follow signs towards Northbridge, take 2nd left at Dodge Hill Rd to 1st right onto McClellan Road. Or: Mass Pike to exit 10A (Rt.146) South to Central Turnpike exit, follow signs.
Call for hours of operation and picking conditions.
Also visit our farmstand open daily.
Nampara Farm
3 Bemis Rd.
Hubbardston
(978) 928-4489
www.Nampara.com
Rt. 2A west into Westminster; take left onto South St., follow for 6 miles and follow signs. Or, Rt. 68 west towards Gardner, at Hubbardston center take a right onto Brigham St. and follow for 2.5 miles and then follow signs to farmstand.
7 days a week 6am-6pm. Grand opening April 24th.
Bakery on site with homemade bread & pastries. Also offer jams, soap, and candles.
Nourse Farm
70 Nourse St.
Westboro
(508) 366-2644
www.Noursefarm.com
2.5 miles west on Rt. 30 from Westboro center. Follow the strawberry to the field. Map on website.
June 10 to Sept. 30, please call for hours.
Offer 8 of the sweetest varieties of strawberries and 3 varities of raspberries.
Red Apple Farm
455 Highland Ave.
Phillipston
800-628-4851
www.Redapplefarm.com
Route 2 (exit 19), follow signs (2 miles) to farm.
Open daily, 9am to 6pm. Nov. and Dec. from 9am-5pm.
Containers provided, children welcome, farm animals, forest trails and hayrides, school tours, 48 apple varieties with one tree with 108 varieties grafted on it! Host Birthday parties, and company outings.
Rota Spring Farm
Chase Hill Road
Sterling
978-365-4735
Look for signs off Rt. 62 or Rt. 110. Call for details.
April, May - 7days, Noon-9pm.
June, July, Aug. - 7 days, Noon-10pm.
Sept. - 7days, Noon-9pm.
Oct. - 7days, Noon-8pm.
Farm Stand offering homemade ice cream, sweet corn, tomatoes, cukes, eggplant, summer squashes, peppers, raspberries, winter squash, pumpkins. Petting zoo with goats. Customers can enjoy watching cattle while picnicing and eating ice cream!
Schartner Farm
211 West Berlin Road
Bolton
(978) 779-5588
Route 495 to Exit 27. Take Route 117 West 1 mile, turn left at blinking light. Go 1 mile up hill, take 3rd left onto West Berlin Road, farm 1 mile.
Sat. & Sun, 10-5pm. Sept. til October
Over 100 acres, enjoy a picnic.
Sholan Farms
1125 Pleasant St
Leominster
978-840-FARM
Rte 2 to Rte 12 S (N. Main St.). Stay on Rte 12 to center of town (past Post Office on right through lights). Pleasant St. is straight ahead. Continue on Pleasant (past the #6 Red Schoolhouse); approx. 1/2 mile to the top of the hill


Offer entertainment, hayrides and group tours. We are located on 169 acres overlooking Northern Worcester County.
Stillman Farm
1399 Lancaster Ave.
Lunenburg
(978) 537-3342
From Rt. 2: take the Lunenburg/Lancaster exit, turn left onto Leominster/Shirley Rd, bear right onto Lancaster Ave. toward Lunenburg.
Open daily 9am to 7pm.


Stowe Farm Orchards
15 Stowe Road
Millbury
(508) 865-4818
Take Milbury Exit off Route 146 and follow signs, approx. 2 miles.
Starts mid-September to end of October, weekends 10am to 5pm.
Containers available.
Tougas Family Farm
Ball Street
Northboro
(508) 393-6406
www.Tougasfarm.com
Rt. 290 to Exit 24, (Church St.) turn towards Boylston. First right onto Ball St. Farm is 1.5 miles from Rt. I-290.
Call for hours. Vary with season.
Farm includes a bakery featuring fresh made fruit desserts, ice cream, and refreshments. Children's play area and barnyard animals. Offer school programs.
Wade Orchard
62 Westcott Road
Harvard
(978) 456-3926
www.Wadeorchard.com
Route 2 to Rt. 111. Follow signs just beyond Rt. 495. Take Codman Hill Rd. off Rt. 111. Follow to stop sign, turn right onto Stow Rd. Take first left onto Westcott Rd. Farm on left. Only 1.5 miles from Rt. 111 & 495.
Open 7 days a week, 9am to 4:30pm - Open Sept. 1.
Offer cider, preserves, gourds, peaches, plums, and asst'd vegetables.
Westward Orchards Farm
Mass Ave. Route 111
Harvard
(978) 456-8363
www.Westwardorchards.com
1/4 mile West of Route 495 on Route 111. Visit our second location located across from the Fruitlands Museums on Prospect Hill Road. Open weekends only from 10am to 4pm in season. Call for more information.
Open daily 10am to 6pm. For PYO apples open 10am to 4pm. Closed Tuesdays.
We supply containers. No pets. Also visit our retail farm store.
Woody's Fall Farmstand
76 Brown Ave.
Leominster
(978) 537-9424
From Rt.2, take Rt. 13 north (exit 32) for 1/4 mile, then right on Prospect St. for 1.5 miles to Brown Ave.
Labor Day thru Halloween, daily and weekends, 9-6pm.
All fall décor, our own mums, gourds, hay, straw, cornstalks, and indian corn. Feed farm animals, see giant pumpkins, and scenic hill walk.
The BIG BIG Halloween Library Collection
Electronic Luminaries
http://www.flicluminaries.com/index.html
Charming, Traditional & Beautiful is the way FLIC Luminaries will appear to your friends and neighbors.

FLIC Luminaries radiate a warm glow using either votive candles with our long burning candle holder, electric light bulbs, or our new

LED Votive Candles

.

Create a magical and festive feeling in the garden or on the porch with FLIC Luminaries. Your patio or pool will glimmer with a warm flickering glow for parties, family celebrations, and every holiday.

FLIC Features


Traditional shape & style
Beautiful warm glow for every occasion

Weatherproof, Durable, & Reusable

Timesaving - easy to install and store


FLIC supports charities that have memorial and awareness walks for their causes. Please contact us to see if FLIC Luminaries can aid in your project. Click here to read more about our Fundraiser packages.

If you would like to become a dealer of FLIC Luminaries or if you are intersted in puchasing large quantites of FLIC Luminaries, see our Wholesale Purchaser Program.
Outdoor Luminaries by Carol Duvall
Outdoor Luminarias
By Carol Duvall

Though we often think of putting out luminarias at holiday time, there's no rule that says that's the ONLY time. And it certainly isn't necessary to line the entire front walk or driveway. A few at the front door or lining the porch steps can look pretty and say "welcome" any time of the year. I came to this conclusion when my daughter-in-law put four lighted candles at the front door one evening in October when I was invited to dinner. What a nice way to be greeted.
For the luminarias I made today, hardware cloth and tissue paper were my materials of choice, and though the tissue paper seems to be too fragile to use for outdoors, it is well-coated with polymer medium (decoupage medium) so it is well-protected from the elements.
Materials:
1/4- or 1/8-inch grid hardware cloth
tissue paper
matte finish polymer medium, decoupage medium or Mod Podge
scissors and/or wire cutters
needle nose pliers
Note: Though a couple of the luminarias I showed had been rubber stamped and embossed and one had sticky-backed metallic charms attached, any decorating should be kept to a minimum. Patterned tissue should also be used with discretion. The tissue is placed over a gridded wire that shows through when the candles are lit, so too much decorating can easily be too much. You can test this ahead of time to see the effect.
Hardware cloth is available at the hardware store as well as at home remodeling stores. If you use the 1/8-inch grid, be sure to check to see that the wires are straight. This was not meant to be a "beauty" product.
| | | |
| --- | --- | --- |
| Outdoor luminaries | Place these luminaries on the front porch at dusk to greet a dinner guest. | Figure A |
Using the 1/4-inch grid hardware cloth
1. Cut a length of the 1/4-inch hardware cloth as wide as you want the luminaria to be, high enough and long enough to make four equally-sized sides. Ours meaure 12 inches long (three inches on each side of the luminaria) and stands eight inches high. Cut the wire so that it is smooth on both the top and bottom edges with no short ends of wire jutting out (
figure A
). Though scissors can be used, wire cutters are preferable. On the short ends, cut the cloth so that one end is smooth and the other end has all of the wire "spokes" protruding their full length of 1/4 inch (
figure B
).
2. Mark the length of the wire at three-inch intervals and fold along these lines. Insert the protruding wires on one end and through the matching openings on the other end (figure C). Bend each wire back using needle nose pliers. Press each wire down so there are no rough edges.

Note: It is easier to get sharp folds by folding the wire back against the edge of a ruler or fold over the edge of a tabletop (figure D).

3. When the wire has been assembled into a box-like shape (figure E), cut a length of tissue about one inch wider than the height of the wire (nine inches) and long enough to go around with just a slight (1/2-inch) overlap.
4. Place paper on a tabletop on a piece of waxed paper or foil and coat several inches of it with the polymer (figure F). Pick up the tissue carefully so as not to tear it and press it against the wire, positioning it so that 1/2 inch extends beyond both the bottom and top edges.

5. Continue to coat the tissue and wrap it around the wire (figure G). When it covers the entire rectangle of wire, fold the top and bottom edges of the paper to the inside of the luminaria. Smooth everything as much as possible. When dry, you may wish to go back and give a second coat of the polymer to the tissue, although this is not essential.

6. Place a votive candle inside the cover and light at dusk.

Tips:
If you have difficulty getting the tissue up off of the tabletop and onto the wire without tearing it, try placing it on the wire one side at a time and applying the polymer.
When using the 1/8-inch hardware cloth, cut the wire along all four edges as smoothly as possible so no spokes are sticking out. Cut the wire about one inch longer than you need and fold one end in 1/2 inch. Fold the other end out 1/2 inch and join the two ends by fitting one fold inside the other. If using this method, it is easier to make the joining in the middle of a side panel or to make a cylindrical cover rather than a rectangle.
http://www.hgtv.com/hgtv/dc_furnishings_other/article/0,1793,HGTV_3433_1387619,00.html
Saturday, July 01, 2006
Drawstring Bags and Purses
Drawstring Bags and Purses


from... http://www.trystancraft.com/martha/projects/bags.html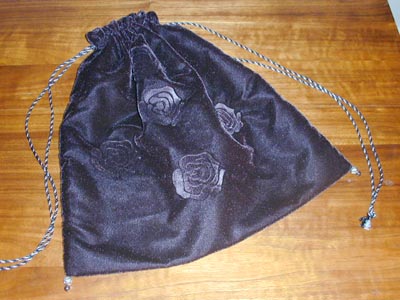 Materials:
fancy fabric for the outside
plain fabric for the inside
scissors
sewing machine
needle and thread
seam ripper
a small safety pin
cord or ribbon
small beads or two tassels (optional)
Drawstring bags make great little purses or lovely wrappings for gifts. You can decorate them in a myriad of ways or leave them simple.
In the bag pictured, I used black velvet for the outside and black satin for the inside. I also stamped the velvet with a rose design. You can decorate the outside fabric with embroidery, patchwork, quilting, ribbon, lace, appliques, fabric paint, etc. Or just use scraps of pretty fabric leftover from another project (or from the remnant bin at the fabric store). Satin and other slick fabrics make good lining materials.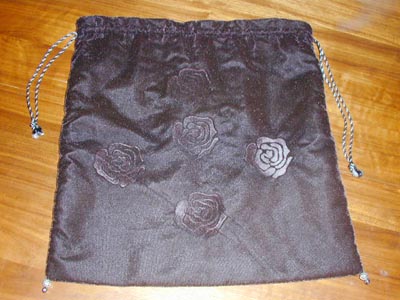 Start with a long rectangle of fancy fabric. Fold it in half and trim the three unfolded sides to form a square. If you are using this as a gift bag, use the size and shape of your gift as a guide. For example, these bags are perfect wraps for wine bottles. Lay the wine bottle on the fabric with the bottom of the bottle two inches above the fabric fold. Measuring two inches on each side of the bottle, cut along the two long sides of the bottle. Then add four or more inches above the top of the bottle, and cut that side. Cut the same shape out of the plain fabric for your lining.
Now that you've cut the fabric shape, it's time to decorate the outside fabric. Add any embellishments you choose now. If you sew on trim or ribbons in horizontal lines, make sure to extend the trim to the very edge of the fabric. This way, it will be enclosed in the final seam and give a clean finish.
With right sides together, sew the outside fabric's side seams. Then sew the side seams of the lining fabric. Iron these seams open.
Turn the lining right-side out and place it inside the fancy fabric so that the right sides of each piece are facing each other (the wrong sides will be facing you). Match the side seams, and pin the open top edges together. Sew along the top edge and leave an opening of about two inches (more for a bigger bag, less for a tiny bag). Turn the bag right-sides out through this opening. Push the lining (right-side out) inside the fancy fabric side. Iron the top edge, turning the raw edges of the opening down. Hand-stitch the opening closed.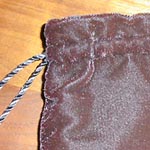 Now you'll make a casing for the drawstring. An inch or so from the top edge of the bag, stitch a line through the two layers (lining and outer fabric), all around the bag. If you want more of a ruffled edge at the top of the bag, start this line of stitching farther from the top edge. Then stitch another line about a half inch below the first line.
At both side seams, use a seam ripper to unpick the side stitching in between the two lines of casing stitches. Cut the cord or ribbon into two long, equal pieces. Take a safety pin and attach it to one end of one piece of cord or ribbon. Insert the safety pin into the side-seam hole and thread it through the casing all the way around the bag, until it comes out next to where it started. Do the same with the other piece of cord or ribbon, but start at the opposite side. On each side, knot the cut ends of the cords to each other.

If you wish, you can sew beads or tassels at each corner of the bag. Use a needle and thread, and start from the inside of the bag so the knot is hidden. You can string any number of beads at each corner, or just tack on a pretty tassel.
Stamped Velvet
Stamped Velvet
at.... http://www.trystancraft.com/martha/projects/stampvelvet.html
Stamped Velvet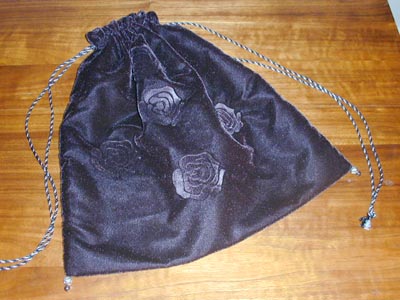 Materials:
velvet
rubber stamp
iron and ironing board
large, hard-backed book or other hard surface
water (preferably in a spray bottle)
fabric shield for iron (optional)
Stamping velvet is a wonderful way to customize a project or gift. You'll need a few, rather specific tools, but once you have them, you can make all kinds of beautiful things!
The Velvet: This technique only works on cut velvet, not crushed velvet, panne velvet, stretch velvet, or velveteen. You need the deep pile of a cut velvet. Rayon or rayon-blend cut velvet is the most common variety at fabric stores and works perfectly. Expensive silk velvet is not necessary.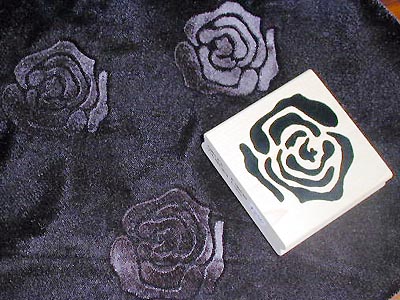 The Stamps:
In order for the design to show up, it must be a large, chunky style design. Delicate tracery and fine details will be lost in this process. The design must have thick lines and solid areas. Look for stamps made for fabric stamping or fabric painting.
Hot Potatoes
makes a whole line of stamps intended for fabric paint and stamping. Their catalog will give you a good idea of what to look for in a velvet stamp.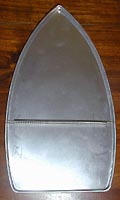 The Iron: The best type of iron to do this project is one that doesn't have very many steam holes or that has steam holes only around the edge of the bottom plate. Steam holes will make holes in your stamped design. If your iron has lots of steam holes, you'll need to be more careful of where you place the iron in relation to the stamp design. Also, you might consider buying a Teflon iron cover, also called a fabric shield for velvet stamping. This is a simple cover that fits onto your iron with a spring.
To start stamping, turn off the steam on your iron and set it on a linen or high setting. Place a hard-backed book or other hard surface on your ironing board. Put the rubber stamp on top of it with the rubber facing up. Lay your velvet over the stamp, with the right side of the fabric (with the pile) touching the rubber.
When positioning your velvet, consider where you want the stamped design to show on the final item. If the velvet will be for clothing, make sure the design won't be caught in a seam. If you want a stamped border, place the design near the edge, but leave enough room to hem the velvet. Consider the size and shape of the final item -- sometimes it's easier to stamp before you sew, sometimes it might not be.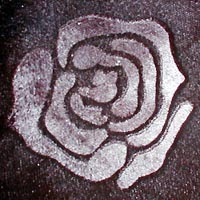 When the velvet is positioned on the stamp, mist the back of the velvet lightly with water. Now firmly press the iron on top of the velvet and stamp. Hold for 15 seconds. Lift the iron off, turn the velvet over, and you'll see the stamped design!
Warning: You can't wash stamped velvet! Water will ruin the design. As with any cut velvet, you should only dry clean it.